Good Morning/Afternoon Folks!  
How are all of you doing on this fine Monday (whatever time of the day it is, in your part of the world?)  
I wanted to actually pose this question today, yes… The one above.
"What are you reacting to?  Ask yourself that very question every moment of every day when your peace is disturbed?"
What is it that triggers you into a tailspin and throws a wrench into what may be a fairly decent day for you?
Alright, so there are two questions.
In order to get the ball rolling, I figured I would bring up this subject because it's something that keeps resurfacing like a bad habit.
I used to be a news junkie, it was on practically 24/7.  I'd get up in the morning and turn on the news, on my way into work, listen to the news, at work, used to have the news playing on my radio, driving home, arriving home… You get the idea, right?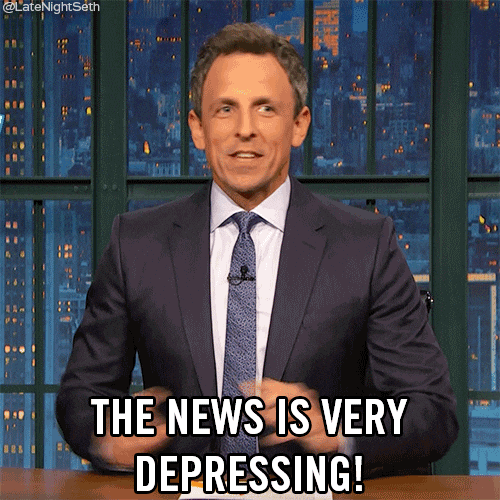 (Agreed!)
Even as a kid, I loved my history course because I enjoyed writing my piece on "The Current Events" – Oh, My Gawd!  Teachers wanted us to learn how miserable the world around us was at a young age.  Really?  I know for a fact, I rarely handed in a paper that was based on Good News.
To me, it was unavoidable and the news these days seems increasingly overwhelming and overstimulating for me to watch.  It causes anxiety and additional worrying over something I have no control over.  It has made me sit and view such horrific scenes to the point that I was crying along with the people affected by such horrid acts of violence.  Hell, it's got me to the point where I curse at the TV when they are discussing politics.  24/7 of "Hell in a handbasket" – NOT GOOD!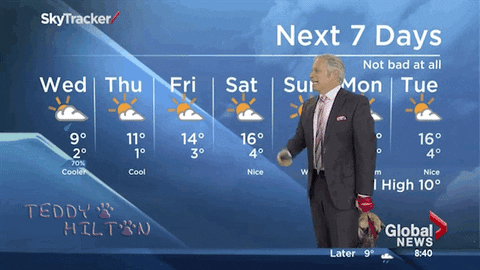 I also love the Weather Channel, I love the fact that these people get to use the words, "It's a possibility",  "This might take place", and "Chance of" and get paid oodles of bucks to have this doppler hoopla still not really know what's happening anyway.   
This is one of my favorite George Carlin skits ever!  This, this is funny stuff!
My point is… Yes, I have one. Finally!
There is a time to turn the news off if it becomes overwhelming to your well-being.  Think about it this way.  If you are already depressed and suffer from anxiety, why do you want to subject yourself to more of the same thing?
Your brain needs a break!  Solution: Shut That Shit Off!
I'm not saying to act like an ostrich and keep your head buried in the sand, but limit yourself from the constant negativity that is dragging you down.
I limit myself to watching the news maybe, an hour a day… But, in most instances, I check it once a week.  Am I a news junkie anymore, Nope!  Why? Because I enjoy not being fixated on intrusive thoughts that can affect my well-being.
Ask yourself one more question… Is your mental health important to you? 
This concludes "Mindfulness Monday ☮️ Make a Change" – I hope you all have a wonderful week!  Create a positive and peaceful place to embrace you.
Beckie💗 
BC 2019
Credits: Pinterest, Giphy, Youtube, and Google Images.