Happy Monday to each and every one of you!  It's the second to last week of March, which can only mean one thing… Spring is just around the corner.  Yay!  
We have Spring cleaning to do, check the fluids in the car, get outside and take in the fresh air, start working in your yard, or repot plants in the house.  It's also time to do a Mindfulness/Mental Health Tuneup.
The reason I bring this to your attention is quite simple, really.  It's because I tend to lack off at it at times, and I feel I have lacked off of being mindful for a couple of weeks now.  For that, I am kicking my own buttocks off because this is something that truly helps me, then for some odd reason, I forget to keep up on it.  I guess "Life" gets in the way, or I am just a glutton for punishment.
What is Mindfulness?  (Refresher's Course)
Mindfulness can pretty much be described as the "Practice" of internally paying attention and being in the present moment.  To be mindful is to intentionally focus on non-judgment.  You're deliberately regulating your attention to through observing your thoughts, emotions, and body.
What are the benefits of Mindfulness?
Reduce stress, or at least manage your stress levels.
Increase focus, concentration, and pay attention.
Reduce impulsiveness.
Improve and resolve conflicts skills.
Increase on empathy and respect.
Increase capacity to overcome challenges.
Improve your overall physical activities.
Improve creatively, and by expressing yourself.
Personally speaking, I'm a Yo-Yo when it comes to my own mindfulness plan.  When I realize that I'm falling into a slump, that's when it hits me like a brick wall… "You damn fool, this is why you're feeling this way." – It's because I stopped my routine.
Yesterday was one of those days, where my focus was practically non-existent, my mood (On a scale of 1-10) equaled a 6, if that.  Plus I felt quite anxious for no apparent reason that I could think of.  Heck, I have been feeling that way for a couple of days.  
I found myself being dragged down again, and by that I mean, feeling depressed.  Again, for no apparent reason.  I seriously feel bad for my therapist tomorrow.  She is going to have to talk me through this, and of course, all the other concerns I have mentioned last week in my series of "Working on Me" – That poor woman!
It was around 3-ish pm yesterday when I decided I needed to do something to break me out of this feeling.  I stopped reading blogs, hell, I couldn't even form thoughts to even write.  I simply turned it off and went to my stand by – Good friend of mine actually, you may have heard of it…
I was in search of a way to ground myself by way of listening to mindfulness meditation.  Between Youtube, and several apps on my phone, I knew I would eventually find something to bring me back.  
Now, listen, a lot of people listen to meditation while doing yoga, but you see, my body cannot contort itself into any other positions than sitting and/or lying down.  If my knees cooperated with me just a little more, then I would consider that.  (I'm not using the excuse of "I want to walk when the weather improves." – I seriously need to build up the muscles in my legs before I even attempt to begin yoga).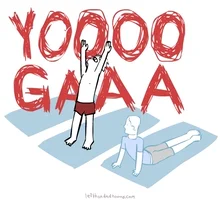 Yeah, I would be the one on the right… I can do that position really well! 🙄 
Back to me searching for a mindful meditation…  Here a couple that I listened to late yesterday afternoon.  Maybe they can help you too when you are feeling that angst, the yucky frame of mind.
This particular one is an hour long.  
This particular one is only 15 minutes long.  I like just about anything "The Honest Guys" make for meditation videos.  Serene and soothing.
Early this morning, I practiced my mindfulness meditation by just sitting still and I literally felt more at ease.  I'm hoping that I stick to my routine of doing this daily.
In all fairness, meditation is not for everyone.  I'm not forcing this on anyone.  This is simply a suggestion to those of you who are feeling anxiety, even panicked.  To be honest, when this was first introduced to me back in 2015, I thought it was rather hokey, but after a while, it did grow on me.  Perhaps, if you give this a shot, it might help you as well.
I still can't wait to see my therapist tomorrow regardless of the fact that this has helped me significantly. 
For now… I leave you with this one question.
Have you ever tried meditation? If so, what types of meditation do you like to listen to?
Maybe some of my readers would like to hear your ideas as well.
Thank you for reading.
Take Care & God Bless!
Beckie 💗