Happy Monday Folks!
Let me start this post by stating this… "Sunday Funday" was amazing, but I feel extremely hungover and I haven't had a drink in over 3 & 1/2 years.  No, this kind of hangover involves going to bed extremely late and taking my meds way off course of my usual time.  Add that to the fact we had the damn time change, and I'm just a bundle of 'Blah' today. 
  As I mentioned yesterday, my roommate and a friend of ours was going to have a movie night with pizza.  I just didn't realize how late we were going to begin the show.  If I had realized it was going to be a late night, I would have prepared myself with a nap prior to the festivities. 
Regardless, I promised my review of  "Bohemian Rhapsody" and, that is what I'm going to do.  (By the way, the pizza was a tasty thin crust with pepperoni and sausage.  LOL!)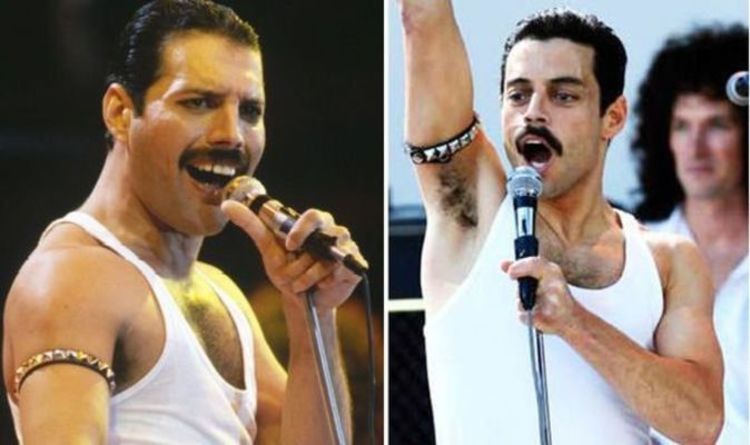 Rami Malek portrayed Freddie Mercury in this energetic movie that keeps the audience rockin' in their seats.  Malek certainly deserves the Oscar Award for his performance in being the lead singer of the band "Queen".
I have to be honest when I admit, I was truly blown away with the humor, the dedication, the way they referred to themselves as "Family" – that all the band members had given towards making "Queen" what they were prior to Freddie Mercury's death in 1991. 
When the story moved into the topic of AIDS, I thought I was emotionally prepared to handle it, but when they proceeded with the "Live Aid" concert and the songs that were played, I did, in fact, break down.  I simply couldn't get past knowing that was going to be such a performance that not only moved Freddie and the band while they performed but the audience as well. 
 If you haven't seen this movie, I give this a 5 Star Rating!  I find myself having a difficult time expressing what watching this movie truly meant to me.  
The entire cast was superb and magnetic.  All the songs and how they were created brought me back to when I was younger and watching them on MTV when MTV just first started off as a "REAL" music video station on your TV.  Not the kinda crap that's on it now.
Okay, so that is my first time giving a movie review.  Good thing I don't do this professionally, eh?  LOL!
Take Care & God Bless!
Beckie 💗