Hello, My Blogging Buddies!  Happy Weekend to All of YOU!!!  
This past week was not that eventful, but it certainly did pack a punch towards the end of the week.
I have one regret this week, and that was not rescheduling my appointment with my therapist.  I was supposed to see her, Tuesday, 02/12/19, but my head cold was really bothering me, and besides that, I was in a fairly good place.  (Or, so I thought).
I was going to reschedule the appointment this past Monday, but it was Presidents Day, Tuesday came along and I called and left a message to reschedule the appointment.  They called back, but I missed their call.  Wednesday, well that day is just a blur, then Thursday came along. 
As most of you already know, I had the last of the gel shots injected into my knees on Thursday.  The three weeks of what I considered somewhat torture, has finally ended.  But the "Snap, crackle, and pop" sound along with the immense pain really got to me this time.  I may bitch about pain, but I don't usually break down into tears over it.  This time, however, I was breaking out a lot of tissues.  I'm pathetic.  But, at least I know that in the long run, I'll feel relief from these injections for at least 6 months time.
Going back to making the appointment with my therapist, I have to wait until this upcoming Monday to do that.  This time I wrote it on my calendar in order to remind me to call first thing in the morning.
As I mentioned, I regret canceling that appointment because I haven't been feeling all that great lately.  Not that I'm a professional in the mental health field, but I pretty much know what it is that is getting to me.
Seasonal Affect Disorder (SAD) is kicking my (ASS!)  I've been trying to fight it, but a tremendous amount of effort in fighting it is very tiring.   Every one of the symptoms above is how I've been feeling since the beginning of February.
I don't necessarily feel sad, but I am definitely under the spectrum of grumpy, moody, and anxious.  I haven't lost interest in my usual activities, but I am finding it hard to concentrate on them.  My mind seems to wander around and off to "Never, Never Land" it goes. 
Food?  Did someone mention food?  Ah, hell, bring it on!  Heck, Peanut's food looks like trail mix, I may just serve myself some of that.  The weight gain is evident too.  I'm sick of being in my own skin at the moment.
You know what I need?????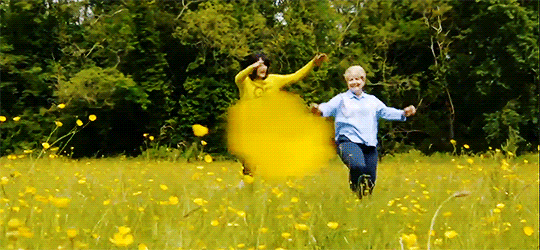 I need to frolic in the sunshine.  Maybe, not as obnoxiously as these two are frolicking, but you get the picture, right? (I wonder if my knees could even handle frolicking, hmmm???)
One thing that I do find funny this past week is how many people have been saying how fast February has gone, or how slow it has moved along.  It's the shortest month of the year and I feel like it's never gonna end.  5 more days of February, and "BUH-BYE!" 
I think I may have mentioned this is a post not so long ago, but I'm thinking of redecorating my bedroom to break me out of the blahs.  It's either that or adopt a guinea pig.  I can't even begin to tell you how many times I've thought about both all week long.  Normal people don't think like that, but then again… I'm far from normal.  
It's either this…
Or
See what all this resting my knees in February have done to me?
I can't wait to see my therapist already.  I wonder if I can make an emergency appointment with her, or just call her.  (SAD) is really messing with my train of thoughts, which is obvious.
Anyway, this is how my week has been.  Only one more week of February left, can I hear a "Hell Yeah, Baby!" 
Okay, enough of this weirdness for today.  Hope all of you had a more productive week that I did.  Most importantly, I hope you all have a great weekend!!!
Take Care & God Bless,
Beckie 💗
Photo Credit: Pinterest, Giphy, and Bed Bath & Beyond