Many thanks to Rory of "A Guy Called Bloke and K9 Doodlepip" for selecting me to participate in this fun challenge!  Odd title, only because I watch TV/Netflix when I'm healthy, hell with waiting for me to come down with the flu.  LOL!  🤒
Introduction:
A very short post … I'm going to share my 3 favorite shows (by energy, mood, and watchable qualities) for the boring days when you are sick.  
Again, for me… Sick as a dog, or healthy as can be I still have favorites that I watch or have watched.  (I'm a binge-watching freak of nature).
Rules:
No more than 3 TV-Shows
Pick the hero's you like in each show
Add pictures of gif's, if you like
Humor is welcomed
Nominate some folks around – Yes, that means other bloggers – Spread the word!
Pingback to my post, if you like.
"What's this old thang?  No remote!  I have to get out of bed to change the channel?  Screw that!"
"Much Better!"
(Note)  When I have been really, really sick, like call the paramedics sick, I don't tend to watch too much of anything but the inside of my eyelids.  But, I'll play along.  😷 🤢 🤮
First Show:
HGTV's "Fixer Upper"  Home improvement show.  The two host Joanna and Chip Gaines are by far one of the happiest couples in Waco, Texas, USA.  They help their guest/clients to find a beat-up, rundown house and turn it into their dream home.  I get so wrapped up in the story about their clients, plus watching them and their antics, that the hour show feels like a blip passed by in minutes.  They are very entertaining, and I love their family always getting involved (Their kids).  They are so close-knit, I just want to reach out and hug em'.  The end results in the homes are so incredible!  Awestruck, is the best way to describe how I feel when I finish watching the end product.
Second Show:
Another HGTV hit, "The Property Brothers" Again…  Same premise.  They are helping their client find a perfect dream house to fit their needs and wants, but not everyone can afford a million dollar mansion.  Drew takes them to homes that fit the clients budget, and Johnathan is the man to fix that home into an oasis.  I love the show for its antics as well, but truth be told.  These identical twins make my heart pump, especially Johnathan.  He can park his work boots under my bed any day of the week.  (Wholly crap, did I just say that?)  LOL!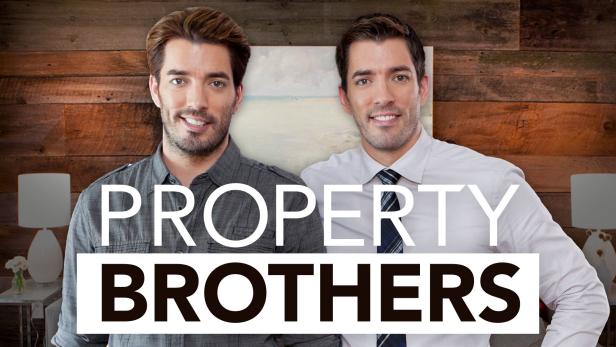 (Johnathan is on the left in case you were wondering.  He makes my heart pitter patter.)
Third Show:
Now, this part is not fair. Binge watching for me is like an Olympic event.  Netflix did this to me.  I seriously can't narrow down just one more for my third show.  I love mysteries, and I have just finished watching back to back Harlan Coben (Author) series that had me on the edge of my seat (mind you, while laying in my bed, sick as a dog)  LOL!  
In case you haven't seen this series, "The Five" was non-stop, exciting, mysterious, and so many twists and turns in the storyline, I just never saw the end coming.  I can't give the story away, because I don't want to spoil it for a future binger.  The cast was awesome, no favorite character to choose because I liked them all.  The only hint I will give you is this…  Missing little brother.
So, I guess that would be my selection.  Although it's still bugging me that Netflix gives me too many options to choose from.  I just went with the most recent one I watched.  🙂 
I pass the baton onto the next group of people to join in this fun challenge:
Revenge of Eve
Therapy Bits
Megha's World
Ivor 20
Sgeoil
https://beckiesmentalmess.wordpress.com/2018/06/22/the-tv-shows-to-watch-when-you-have-a-flu/